Billy D
Welcome to my Web Site!
Hi, my name is Billy D (Billy DeMoya) I am an Acoustic, Solo Artist, Singer, Songwriter, and Musician.
Every song in my performance is fresh and spontaneous. I sing and play acoustic guitar and use an RC-20XL Boss Loop Station and Muted Strings on my Guitar to create loops of percussion beats behind me on some songs and some guitar "On the Fly". I don't use any Midi, Backing Tracks, Pre-Programmed Drum Machines or Pre-Made Loops.
Here's my newest LIVE video. To see more please go to My Video Page. https://youtu.be/w2Qe_JMgADY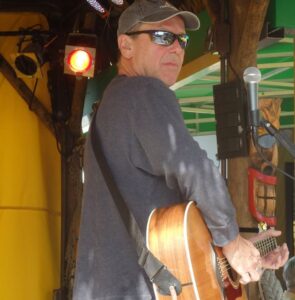 I play a Taylor 414CE Acoustic/Electric Guitar and use a Bose L1 P.A. system that sounds great at any volume.
I regularly perform at Beach Bars, Tiki Bars, Patios, Restaurants and Nightclubs as well as Private Parties, Wedding Receptions and Corporate Events.
I was making music in my first band at age 12 and I still love it. After tons of bands, tours, and performances in New York City, Chicago, San Francisco and Denver, I have since happily settled down in Pinellas County, Florida in 2014!
I began making music at a very young age. My parents were from Cuba. I was born the youngest of three boys in Miami, Florida. By the time I was 12, I was playing every Friday night at the local Civic Center for five dollars a night with guys that were considerably older than me!
My musical career in Miami had me playing with dozens of bands and opening for the Allman Brothers, Ted Nugent, Cannonball Adderley, The Blues Image, NRBQ, Dion, Buddy Miles and more.
I spent time in New York City opening for the Ramones, Wayne County, the Heartbreakers and more with the Screws.
I then found myself in San Francisco where I sang and co-wrote on a now Ultra Rare Punk Classic 45rpm single called "Bummer Bitch" by Freestone, which has been known to be worth up to Six Hundred Dollars.
Check out my Songs page for a web player to hear some sample recordings,
or my Song List page for a full list of the songs I play.
Please use this site to check my calendar, listen to some of my recordings, watch videos or contact me for bookings.